Tags: Home office design ideas 2020, Small office design concept, Modern office design ideas for small spaces, small office design ideas, Small home office layouts, Small work office decorating ideas, Contemporary small office building, Contemporary small office design ideas in Lucknow, Interior design for small offices in Lucknow, Creative small office interior design in  Lucknow, creative small office interior design ideas in Lucknow, Partition office interior design, Small office partitioned design, Wooden partition design for office.
Small Office Interior design: The better and feasible way to reduce cost and investment with better results.
Office interior designing is an important service which contains commercial view in the field of interior designing. With time the requirements of interior designers with high knowledge and expertise in the commercial field have increased. Taking this into consideration we have tried to explain some of the tips and tricks on
How to design your Small Office in a way that it can Look Bigger
Selecting and arranging the office furniture wisely for high functionality. …
Paint the office in a bright colour. …

Make sure to have plenty of light – either natural or artificial. …

Use mirrors to create the illusion of space and light.
Decoruss expertise in offering best interior design ideas for small office space, from modern home office design ideas 2020 to the traditional office design. We understand that all type of office and different perspective and ideology hence execution and formating of each and every type is different but with time we have expertise in interior designing for all types of commercial office interior and residential interiors.  Decoruss believes in moving ahead hence we offer a very realistic and helpful solution in the face of interior design consultation. We there you are looking for a service which can renovate or remodel your space or if you are looking for Turnkey bases solution Decoruss is the most relevant option for your project.
For better understanding, we have characterized the types of office which are very famous and are in trend nowadays in Lucknow.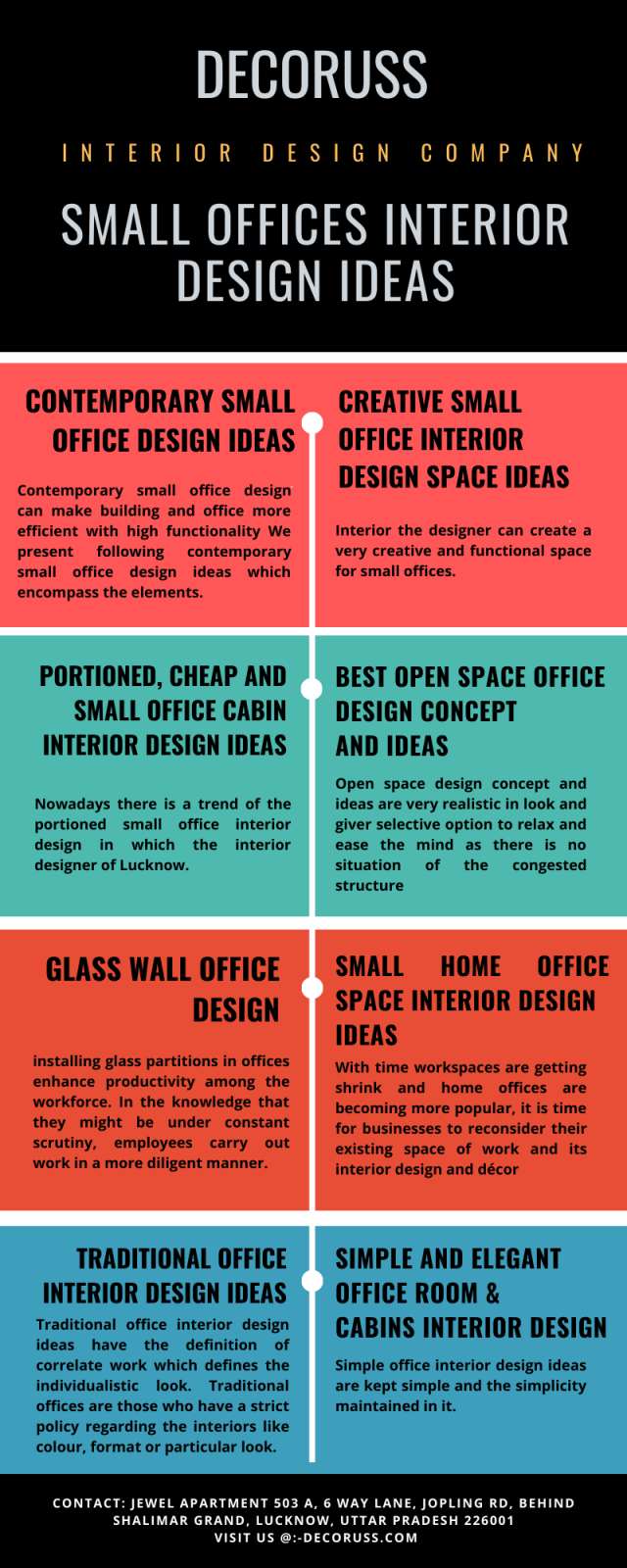 1.Contemporary small office design ideas
Contemporary small office design can make building and office more efficient with high functionality We present following contemporary small office design ideas which encompasses the elements like:
High Efficiencies:
An office design should be efficient in many ways. The first, and foremost obvious, is how well a particular design can suit a given space. Modern offices in particular tend to maximize the available space for a company. Small office areas require designers to make as well as create and use the available space to its maximum. Contemporary small offices are often efficient in the use of space, time, and capital.
Colourfulness:
Colour is one of the very effective ways which influences mood and energy levels of any space. This is the reason why lots of bright and vibrant colours are used for the walls, floors, and ceilings of modern offices. Moreover, many business owners nowadays incorporate their brand's colour theme. Throughout their office design to create a brand presence all over the place. Moreover, the painting work done is regulated by keeping this fact in mind that it should go with the selective brand colour.
Comfortable:
The comfortable business environment has slowly and gradually created a mark over the requirement in the interior of the office, nowadays business leaders have made this concept of creating office spaces that replicate domestic interiors. As it's comfortable and give the impression of a good work culture with little moderations. First, they serve to impress anyone who visits a business. Hence a good and comfortable space makes the atmosphere more relaxing and helps in reducing the stress.
Employees centric:
All the above elements trends to revolve around the needs and preferences of employees. Even though contemporary offices can vary from business-to-business. It's a wise option for business owners to consult an expert interior designer before undertaking an office renovation or construction.
2.Creative small office interior design space ideas
Interior designer can create very creative and functional space for small offices. Interior designers are professionals who can give solutions to the design which the business or client possess or will in the future in a way that their space can become more functional and productive.
With time the requirement of an interior designer for office and commercial space has increased drastically as interior designer can plan all the structure and function of space according to the type of office. 
3.Partitioned, cheap and small office cabin interior design ideas
Nowadays there is a trend of partitioned small office design. The interior designers of Lucknow have this challenge to give partitioned between two sperate segment or blocks. To provide a sperate division to the separate department.
Business owners also go for the wooden partitioned design for the office which gives the sense of highly sophisticated and a great look to the office partitioned design idea are in trend nowadays as they are cheap and give high quality to any commercial space.
Office partitioned cabin design ideas are also very interesting and give a sperate identity and space for any kind of discussions and thoughts. 
4.Best Open space office design concept and ideas
Open space design concept and ideas are very realistic in look and giver selective option to relax and ease the mind as there is no situation of the congested structure. Open space office have the option of greenery, and spacious, look and very collective view over the art and design.
5.Glass wall office design
Glass wall office design is a very trendy way to design a small office space incorporates glass partitions to separate workspaces. Implementing glass office wall partitions allows natural light to filter throughout the office in a way that traditional walls and office wall partitions can't.
Improved productivity. 
Installing glass partitions in offices enhances productivity among the workforce. In the knowledge that they might be under constant scrutiny, employees carry out work in a more diligent manner.
The installation of glass office partitions also helps to reduce noise pollution in the office. Because they are somewhat soundproof, which minimizes distractions and improves productivity.
Easy maintenance.
Although it might not seem true, a glass office partition is relatively easy to clean and maintain since you can always use a window cleaning solution to wipe down the glass panels quickly.
Improved lighting. 
If we talk about workplaces, insufficient or lack of natural light is one of the biggest problems faced today,  often it results in reduced workplace energy and staff fatigue.  For an Interior design for small offices in Lucknow light is a very essential part to be considered very efficiently.
We can improve the health and morale of your employees by manipulating your existing office layout so it can allow in sufficient amounts of natural light.
Installing glass partitions in the office is one of the best ways to let insufficient sunlight.
6.Small Home office space interior design ideas
With time workspaces are getting shrink and home offices are becoming more popular. It is time for businesses to reconsider their existing space of work and its interior design and decor. Lucknow is becoming the hub of start-ups and working out of small home offices and more. Interior design for small offices in Lucknow are in high demand hence interior designers are searching for the latest. And innovative ideas that can be implemented in any small space.
Office space interior designers in Lucknow are finding the need to design and decorate smaller-sized offices. Such that they are modern, they reflect the taste, style, and objective of the business. And more importantly, works for the people occupying it. 
7.Traditional office interior design ideas
Traditional office interior design ideas have the definition of correlate work which defines the individualistic look. Traditional offices are those who have a strict policy regarding the interiors like colour, format or particular look.
Usually, in traditional office interiors design, even the same format and layout of colour and patterns are strictly follow. All these element and texture are defined based on preference and professionalism.  
8.Simple and elegant office room & cabins interior design
Simple office interior design ideas are kept simple and the simplicity maintained in it. Moreover, simple and elegant office interior design is high on demand and moreover, prefered very much in Lucknow.
Simple office interior design idea is a combination of simple texture, colour even the customize furniture like centre table and conference room interiors are designed in a very simple and elegant way so that it can match with a soft texture and bright colours. Office space planning is done accordingly to meet the maximum space and functionality.