Make your cooking experience magical with the best modular kitchen in Lucknow.
"Modular kitchen ideas are extremely popular among homeowners". It is a modern and flexible way to design your kitchen. It allows you to choose from a variety of cabinet and fittings that can be easily assembled to create gorgeous looking fully functional kitchen.  Modular kitchen is highly customizable, which means you will be able to select the cabinet layout and style that meet in your storage need.  With kitchen cabinets and spaces, a modular kitchen makes your work more organized and comfortable. There are Interior designers in Lucknow who handle designing for modular kitchen layouts, you can also search for a Modular kitchen near me.
Modular kitchen Designers specialize in designing the layout of kitchen spaces. You can choose from different styles while designing your kitchen. In a Modular kitchen, you can beautifully blend different elements like colour, designs, and accessories and transform the look of your kitchen.
Decoruss is the best modular kitchen manufacturer in Lucknow who offers you a wide range of latest modular kitchen designs in 2'D and 3'D designing options to choose from. We are a modular kitchen dealer in Lucknow, service corners, and provide you with different types of modular kitchen to explore. Including L-shape, G-shape, U-shape, straight/ parallel kitchen, etc., as per your need and preferences.
Types of Modular kitchen designs 
Modular kitchen can be of various types depending upon their plan and layout, these categories will help you choose the best-suited options for your kitchen.
L-Shaped Modular Kitchen Layout
L-shape modular kitchen is one of the most common kitchen layouts, L shape layout is ideal for small homes and it makes maximum use of available floor space.  It gives you maximum storage and lets you easily assimilate a small dining table within your kitchen.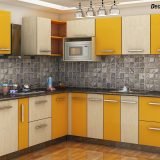 2. Straight Modular Kitchen Layout.
Straight Modular Kitchen Layout does not contain a work triangle instead the workflow is a straight line. This type of layout is ideal for studio and loft apartments. Straight modular keep your kitchen space minimum but still maintain optimum efficiency.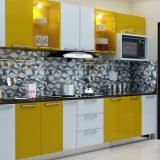 3. U-Shaped Modular Kitchen Layout.
This type of Modular Kitchen layout is for a large spacious kitchen with the most effective work triangle. This layout has the most storage space with plenty of upper, lower cabinets, and tall units as well.
You will also be able to have plenty of counter space, making it ideal for more than one person to use at a time.
Parallel Shaped Kitchen or galley kitchen layout.
Parallel-shaped Kitchen is the most-effective layout for cooking, with two long working spaces. The advantage of the parallel shaped kitchen is it can be split in two into the wet and dry workspace. It provides lots of counter space with storage and allows plenty of space as well. Parallel Shaped kitchen is suitable for most types' homes and easily adaptable for your need.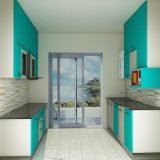 Island Modular Kitchen Layout
Island Modular Kitchen is a combination of either L-shape or Straight model with an unconnected island space.  This layout can be used as an extra counter or breakfast bar, the installation of a sink or stove-top is also possible. With the benefit of two opposing working areas and storage space, this layout is ideal for open plan living.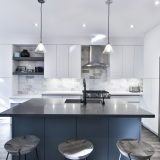 G- shaped or peninsula Modular Kitchen
Peninsula Modular kitchen is similar to the island kitchen layout. It provides a free-standing workplace as a secondary counter. Unlike an island, this peninsula is connected to the main workspace; making it accessible from three, rather than four sides. It is considered as the ideal layout for homes with small kitchen areas. The peninsula provides the advantages of an island worktop with less utilization of floor space.
Difference between Modular Kitchen and Ordinary Kitchen.
We must understand on an initial base what is the basic difference between ordinary and modular kitchen before planning your dream kitchen.
Ordinary Kitchen
In an ordinary Kitchen, you choose cabinets, counter spaces, and drawers, all according to your specification. You can choose features on the bases of your preferences. Although it very time consuming and sometimes hard to arrange as well.
Modular Kitchen
On the other hand, a modular kitchen is bought as an assembled modular structure. instead of making each piece separately modular kitchen is purchased as a complete unit. Modular kitchen also gives the option of in-build appliances like refrigerators, microwaves, and dishwashers. They are highly preferred an make a great option in compact urban spaces.
Advantage of installing a modular kitchen 
Here is a quick list of advantages of a modular kitchen as compared to your regular kitchen design
1.It has maximum accessibility that comes from built-in appliances.
The built-in kitchens are extremely versatile with a combination of tall units, wall storage, cabinets, drawers, floor-standing cabinets, and dedicated shelves or space for appliances.
2.Highly attractive, stylish, and sleek.
When one is willing to bring style and contemporary look to one's kitchen, a modular kitchen is a choice. A modular kitchen is a smarter choice as compared to an ordinary kitchen. With their design and sophisticated finish, it looks more luxurious than a regular kitchen.
3.Comes with a range of various shape, sizes, and finishes
One of the biggest advantages of a modular kitchen it works for the small kitchen as well. The modular kitchen utilizes the minimum space with high accessibility.
4.Make your kitchen highly organized and reduces wastage of space.
With efficient planning by professional Interior designers in Lucknow, the kitchens provide more storage and better workflow. Modular kitchen cabinets come with special systems such as built-in bottle racks, plate holders, cutlery compartments, garbage holders, and wire trays for vegetables.
Things to remember while designing a Modular kitchen in Lucknow? 
The kitchen is the heart of the house and it is often the most used space. Most of the women spend a maximum of their time in the kitchen. Every house has its own terms and conditions when it comes to how the kitchen should turn out to be. Hence it is very essential to understand the key elements for designing a modular kitchen.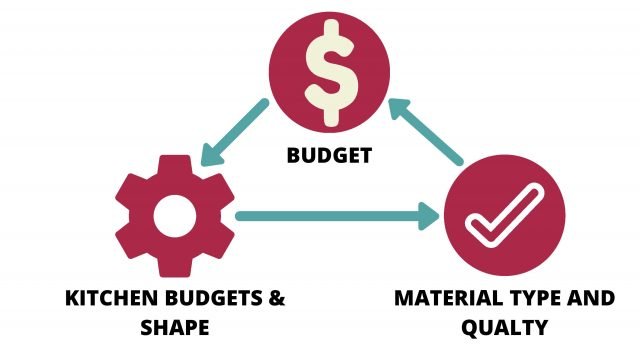 1.Budget
The budget plays a major role while planning a modular kitchen. A modular kitchen cost calculator can help you prepare an estimated cost you have to invest over a modular kitchen design or layout.
2.Kitchen shape
Depending upon the size of the kitchen you can decide which layout fits you the best. As there are multiple layout options you can choose from.
3.Material type and quality
Once you decide the budget and design the next step is to finalize what material should be used in making your space. A modular kitchen designer can assist you in what material suits your kitchen best. According to the ambience, usage, and budget, the cost of a modular kitchen is finalized.